The Transition Management process is underway in Dodowa (Ghana)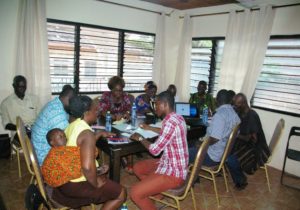 The Dodowa local transition team organised the first Transition Management arena meetings, which took place on 28th and 29th of September 2017 in four different communities of the Dodowa peri-urban area.
These first meetings represented the starting point of the overall Transition Arena process consisting of a series of monthly meetings.
The transition arena process aims to represent a 'safe space', where local participants can express their concerns, critically reflect and take ownership of problems, develop a vision for their communities, as well as identifying change actions needed to reach the envisioned future. These series of meetings are an opportunity to discuss different perspectives and ideas as well as to create new synergies and collaborations.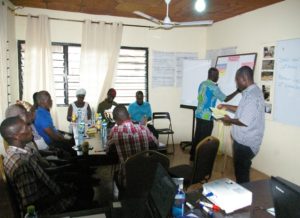 In the first arena meetings, the local transition team, consisting of Dr. Sampson Oduro-Kwarteng Sampson, Dr. George Lutterodt and research assistant Francis Andorful, facilitated the participants to identify local problems and explore their relationship with water supply and water contamination. The participants were asked to reflect upon deeper rooted causes of water and sanitation problems and the reasons of the persistency of these problems over time. The meetings also had the aim to inform local residents about research findings of the T-GroUP project as well as to identify additional local change makers, members of the communities who are intrinsic motivated to solve local problems and willing to take actions for the improvement of the water and sanitation systems.
The design and organisation of the transition arena process is the result of the adaptation by T-GroUP of the Transition Management approach to the local context. These adaptations took into consideration dynamics, needs and characteristics of the local context. Furthermore, all arena meetings will be carefully documented and monitored in order to enhance the replicability of the overall process. Lessons learnt and insights from each arena meeting will also be taken into account for the design and organisation of the following transition arena meetings.